When your business chooses to invest in a permanent commercial security system, your company will enjoy a multitude of benefits, including the well-being of clients and employees, peace of mind, and a lower chance of crime. Yet before you decide on the details of your commercial security system, here are five questions our team at ABF Security encourages you to consider.
Will you install your system in a new space, or will you renovate your current one?
There's a difference in the process between renovating an existing office or installing a system in a new space. A fresh build will grant you endless options as you'll have the freedom to customize your mounting, cabling, and electrical fittings. However, if you're freshening a space that's already in use, you may need to consider how the space is currently used, and resourceful ways to optimize the field of vision of a CCTV surveillance camera, an easy-to-see exit sign, and accessible fire alarms. No matter what situation you're in, ABF Security can work under either instance and can assist you in examining your options.
Which daily security functions will your system perform?
We think this is the most important question to ask yourself, so we can provide the correct security technology in an idealized space. Here are some scenarios you may be working with:
You want to add access control systems across your office to grant higher-ups exclusive access to sensitive areas.
You want to install more fire alarms in a long hallway and include more exit signs to the correct doors in your school.
You want to build several new rooms that integrate into your current mass communication system in your office.
You want to renovate your building to be more eco-friendly with improved energy management systems that shut off HVAC in case of fires.
You want to install a surveillance camera system to monitor the exterior of your warehouse.
Now that you have an idea of what you may want your system to look like, we'll help you select the appropriate equipment that falls under your estimated budget, fits in the space, and performs the necessary functions.
What is the size and shape of your room?
It's time to calculate the square footage and shape of all the spaces you want to change and consider features like a curved wall or immovable support pillar. Depending on the size of the space, you may need to include more alarms, cameras, or clocks so everyone stays informed in case of an emergency. If you have a particularly odd room, one of our professionals may be able to do an on-site assessment to understand the wiring that needs to be done.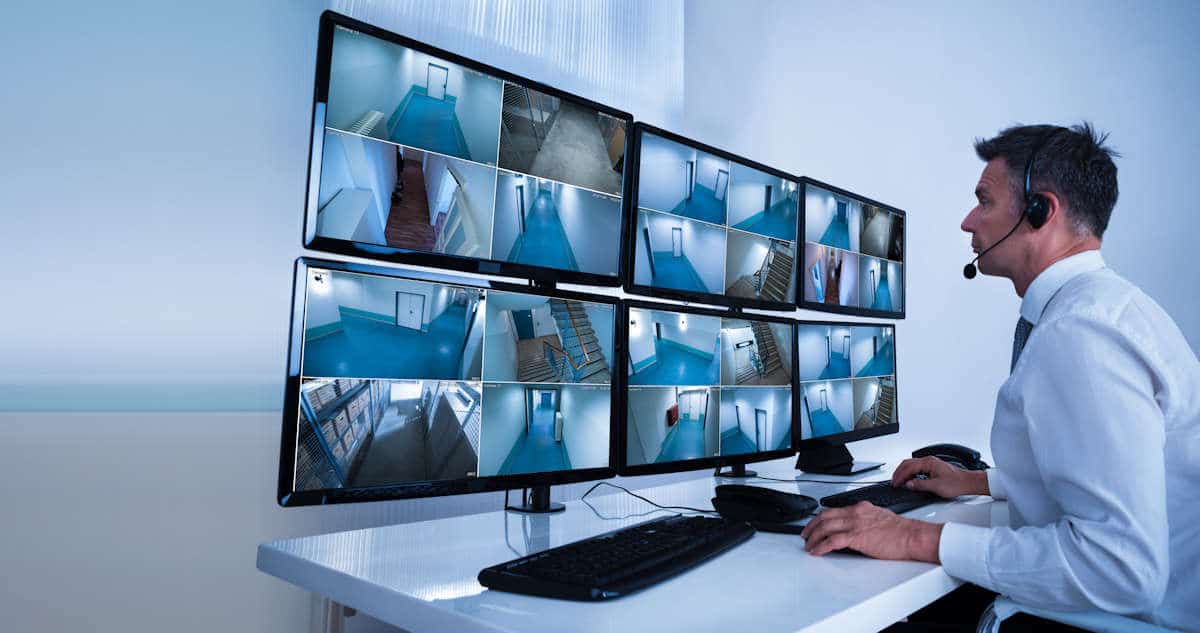 What is the size of your budget?
No matter how big or small your budget is, you'll have a plethora of equipment options to choose from when you invest in a commercial security system. First, you should split your plan into two categories, the first being your idealized security setup with all the ideal accessories, and the second being your essential system with the necessary components for daily use. Usually, your budget will arrive somewhere between the two. When you craft a wish list of all the security solutions for your space, we can quickly put together pricing options and installation schedules, and even advise on what to cut or add so you can prioritize your company and employee safety in the final system.
Should I have an integrated system?
An integrated security system will allow you to combine HVAC, lights, cameras, and alarms so your system will automatically turn on flashing lights and call the authorities in case of a triggered intruder alarm or shut off HVAC and emit a building-wide announcement through the mass communication situation to evacuate in case of a fire alarm. These integrated solutions can help save lives.
Here at ABF Security, we're proud to provide cutting-edge residential and commercial security solutions for homes and businesses across St. Louis. If you have questions about integrated alarm systems or you'd like to outfit your company with a commercial security system,  Contact us today to get started!