Within a century, our sound systems have evolved to be more versatile, from the massive gramophones that played huge discs to the bytes of data within thousands of MP3 files that can be streamed through your phone. Today we are living in a golden age of audio, where we can choose any shape, size, and form of physical or digital music.
More people than ever are interested in experiencing high-quality sound in a smaller package. This could look like a portable speaker that brings booming sound wherever you go or a full hi-fi system that's simply easier to handle in your home. Whatever you desire, there are options available for your taste. Here is ABF Security's guide to purchasing tiny hi-fi systems.
What is Tiny Hi-Fi?
To have a hi-fi system, you need an audio source, amplifier, and speakers. These components can be independent elements or fully integrated stereo speakers that contain your audio sources. You can still incorporate vinyl, CDs, or wireless Bluetooth under mini hi-fi; you'll just have a more condensed setup. Our personal preference is an integrated sound system over a single wireless speaker; just because you lack space doesn't mean you have to sacrifice the quality of your audio. There's already a chance you own music sources and other components you can combine to make your system.
Micro Vs Mini
Tiny hi-fi systems have two categories known as "micro" and "mini." But what's the difference between the two? We'll use the realm of CD playing as an example. A micro hi-fi system comprises a compact unit perfect for your cozy lounge or office nook and may include an AM/FM radio tuner, CD player, and sometimes an iPod dock. These speakers could range between 10 and 30 watts per channel.
Mini hi-fi systems on the other hand are slightly larger and ideal for a public space or a larger home. These may include a multi-disc CD player for 3 to 5 CDs and speakers that emit between 30 and 100 watts per channel, a significant difference from the micro setup. Some mini systems include a separate subwoofer for bass handling. Both of these systems include speakers, but your audio sources will be quite different, so make sure that the system you choose will include your ideal source.
Mini Hi-Fi Audio Sources
You can enjoy a mix of formats on either a mini or micro system. Nearly every hi-fi system will incorporate a CD player for both CD-R and CD-RW formats, as well as MP3 playback, meaning you can play CDs that contain audio files ripped from your computer. Because most tiny hi-fi systems also incorporate radio and iPod capabilities, you have the freedom to switch up your sources as you wish. Many systems also include a USB input so you can play music from flash drives or your cell phone, while specialized sources may also include a tape deck for audio cassettes or a turntable for vinyl records. However, if you're seeking to listen to music with less common audio sources, you may need to buy a few more elements and create a not-so-mini system.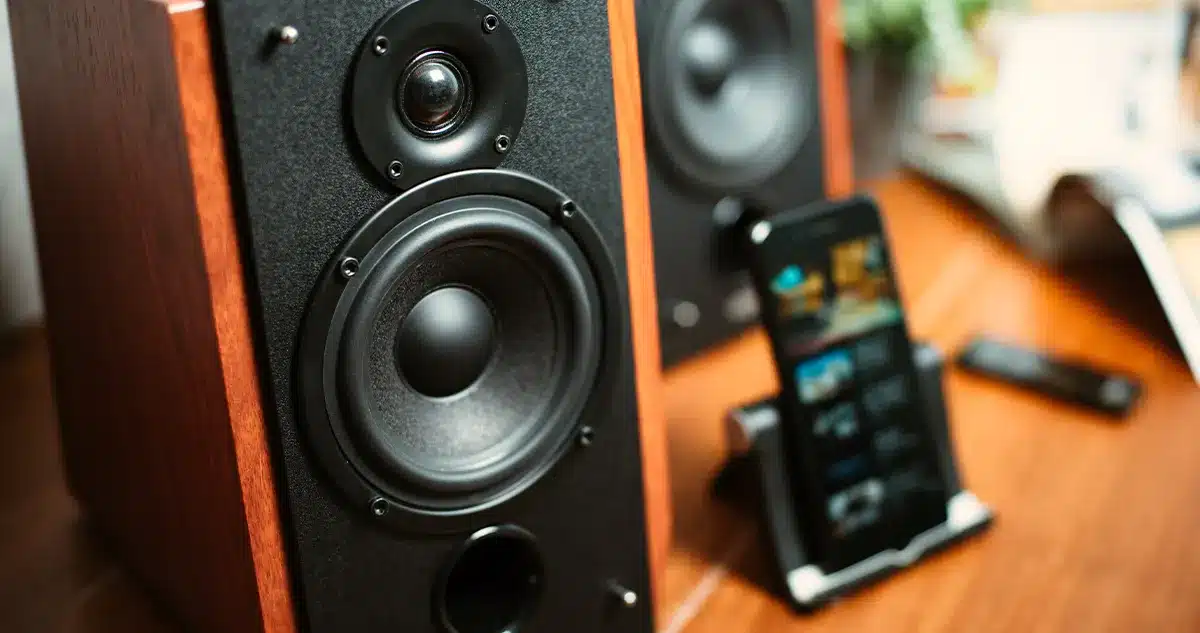 Other Features to Look For
Understanding power levels is essential for your mini or micro system. An output of 20 watts will create a clear sound for an average-sized living room, but if you want sound that moves through more rooms, a system of up to 100 watts will be a better fit. Be aware that certain systems list power output per channel while others list the total output.
Some hi-fi systems also have DVD and CD playback capabilities. A hi-fi speaker will always have superior sound quality over any TV speaker, and when you include a separate amplifier, you'll have even more fine-tuned volume control. If you have a media room or home theater and don't want to spend the money on a full home theater audio system, we think a mini hi-fi system with a DVD player is a great solution to achieve quality audio for movies at home.
If you're still debating on a micro or mini hi-fi system for your household, it's best to talk to an expert like ABF Security. We are ready to meet your personal preferences and take your space into account to design and install the perfect hi-fi systems, big or small. Contact us today to get started!