After the pandemic, a trip to the movie theater just isn't the same. Streaming services created a new demand for the movie experience by providing hundreds of movies at our fingertips, allowing you to bring the cinema home! When delving into a home theater perfect for your needs, our team at ABF Security has several design tips, decorating ideas, and renovation recommendations that can help.
Take the Basement Into Account
Is your basement full of junk and collecting dust? It's the perfect space for your future home theater! The physical isolation from the rest of your home will provide tranquility while being a great spot to optimize lighting, sound, and overall performance. Dark walls, a flat-screen TV, and plush seating will quickly transform your space into an immersive home theater.
Review Other Potential Locations
If Aunt Sally lives in your basement or your home doesn't have one, it's time to get creative. Think of other empty spaces in your home. A spare room, an oversized walk-in closet, a pool house, or a spacious garage all hold the potential of becoming your new movie theater. There's no need to worry about the room's performance as a cinema; black-out curtains and acoustic panels can enhance any room while also creating a barrier between your theater and the activity of the outside world.
Insulate the Walls
Once you have decided on your home theater location, it's time to determine what renovation is required, if any. Renovations might seem daunting, but an easy way to track it is by making a list of everything you want your home theater to accomplish. Review what you have and what you need to make the space come to life. Perhaps you only need new decor, or maybe you are starting from scratch and need all the equipment, seating, and garnishes. No matter the case, we recommend that you insulate the walls.
Hide Your Wiring
After renovations are complete, your home theater is ready for equipment. Unfortunately, most home theater accessories come with unseemly wiring. You'll want to be sure you have the appropriate wiring for your screen, sound, and lighting. For ultimate wire invisibility, you can route the cables inside the walls of the room. However, some homeowners use tubing that resembles raised paneling to hide wires and give their home theater an artistic, modern look.
Consider Sound Options
It can be easy to get overwhelmed when designing your sound system. Our state-of-the-art surround sound systems can transform any room into your getaway. We will help you choose what kind and how many speakers you will need to achieve an immersion experience. Rest easy knowing we will help you pick a superb sound system.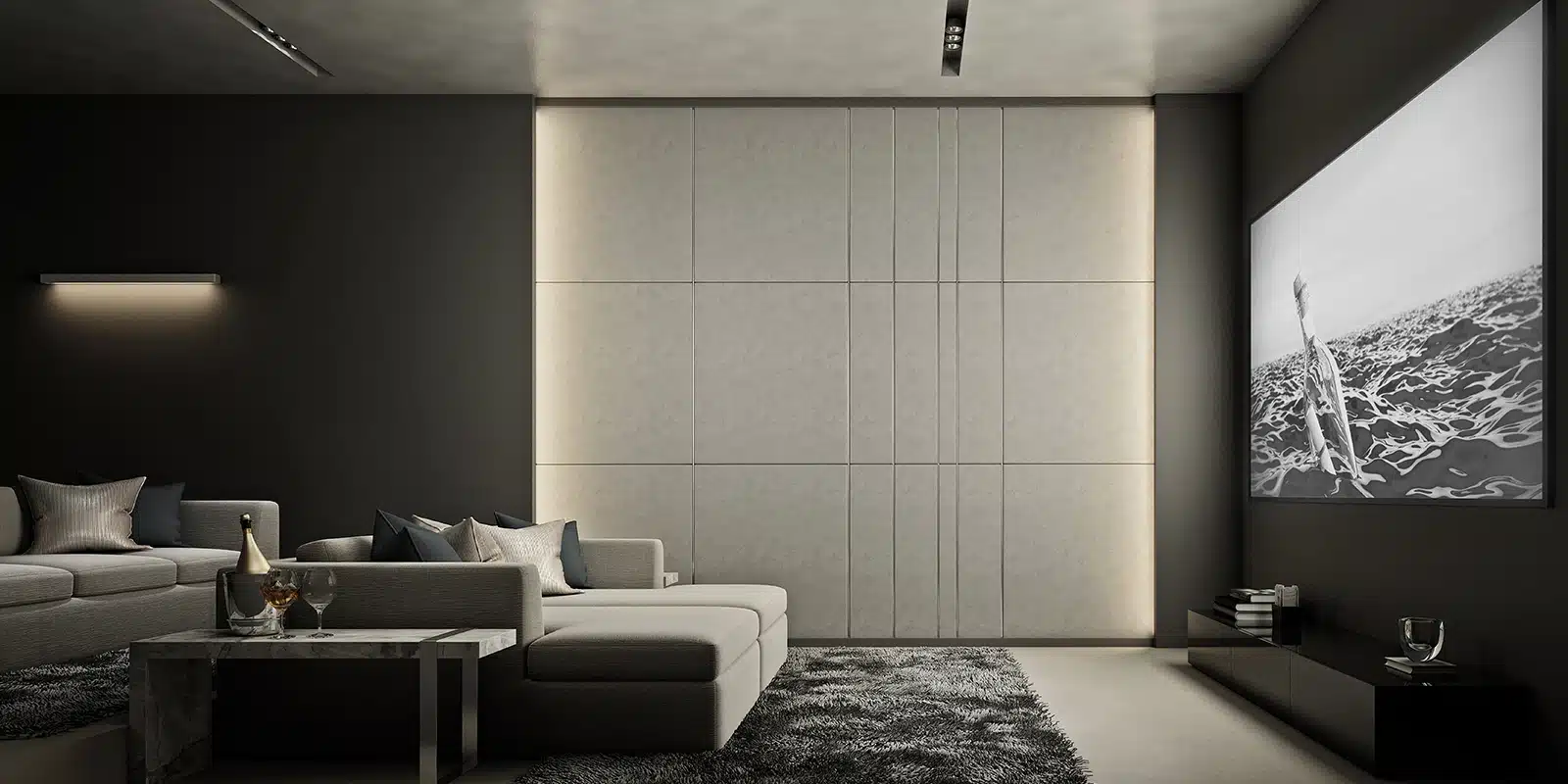 Choose Your Screen
Knowing your room's dimensions is essential when choosing your screen. Bigger doesn't always mean better, especially when it comes to screens. A large screen can be overwhelming in a shallow room and sometimes takes away from storage for other devices like DVD players and video game consoles. Ensure your area can contain everything that completes your home entertainment experience.
Centralize Control
Universal remotes and mobile apps make controlling your home theater more comprehensive and accessible to young, elderly, or disabled family members. We suggest installing a centralized control system to easily adjust the lighting, sound, and screen from a single source.  A tap of the "Movie" button could turn on the projector and speakers while dimming the lights; a simple start to an immersive experience.
Choose Your Lighting
Lighting might seem counterintuitive, but it is necessary to create the perfect ambiance. Overhead lighting will be helpful when prepping for your parties or cleaning spilled popcorn afterward. Wall sconces and LED strips under the seating will replicate the cinema experience. Adding fiber optic lighting to your home theater could make your ceiling look like a starry night sky. Once your home theater is well-lit, your movie night experience will be next level.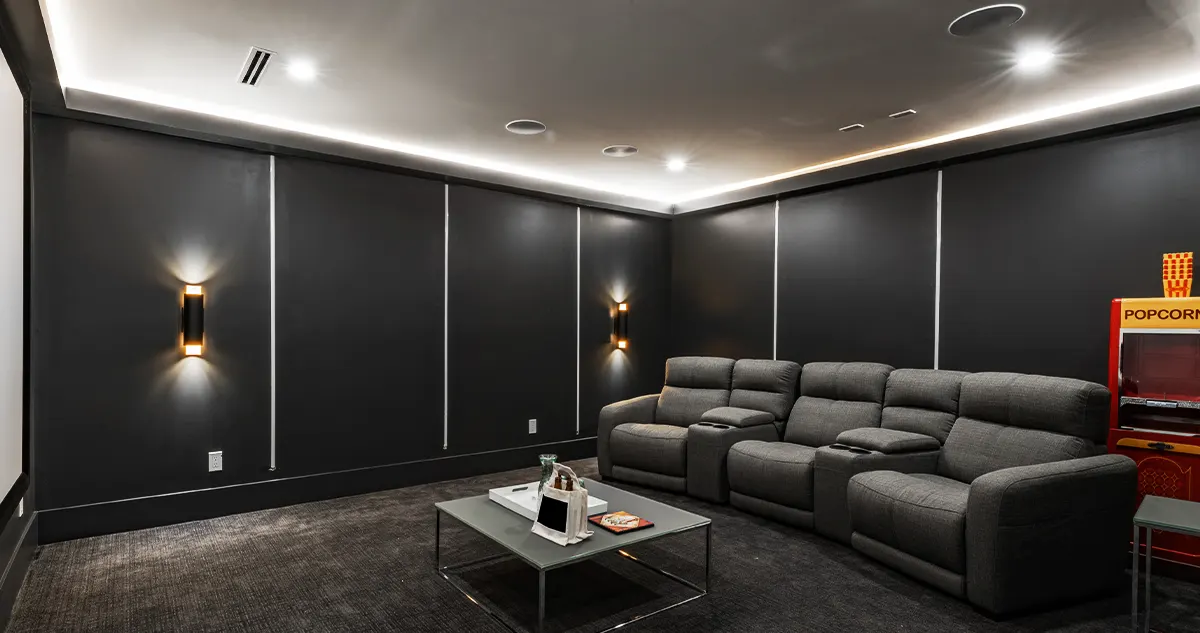 Select Seating
After the technical aspects of your home theater are in place, you can move on to the more creative aspects of interior design. Consider your seating options: do you imagine yourself snuggled up in a loveseat or kicking back in a recliner with snacks and drinks in large cup holders? Your customization options are nearly endless.
Use Your Imagination
Let your imagination run free when decorating your space. You could choose a theme that pays tribute to the Golden Age of Hollywood, your favorite sci-fi series, or 1920's Art Deco elegance. Maybe you want to utilize subtle accents or fully delve into your fantasy world; we can help mold your space into whatever you desire.
No matter how big or small your home theater will be, it's necessary to properly plan out every step of the way. Whether you want to make a handful of upgrades or entirely renovate your space, your home theater dreams can become a reality. As you take into consideration these tips and tricks, our team of experts at ABF Security can help you design and install a home theater that's right for you. Contact us today to get started!